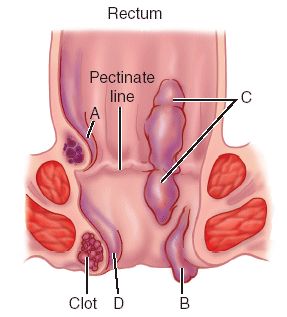 If you haven't seen it yet, take 7 minutes of your life to watch the
Glenn Beck
post-op hemorrhoid surgery video. Now, I generally frown upon making light of anyone's perception of physical pain. There's a neurologic component to pain that is very real and should never be minimized. However. This rambling, incoherent diatribe is absolutely ridiculous. And amusing. It's funny, doctors see patients like this all the time. They're the patients who torture family members with incessant personal illness stories, the lady who calls you every week because she's "concerned" about her hernia incision (looks fine), the guy who lugubriously asks "am I gonnna make it, doc" as you take him back for gallbladder surgery. These are the people who think the world has cursed them with incurable illness and suffering and, god willing, they may just pull through. Almost universally, what they suffer from is something routine and non-life threatening (hemorrhoids, hernia, gallbladder, etc.) They take weeks off from work. They call for multiple refills of pain meds. They even make Youtube videos while unshaven and zonked out on painkillers. Patience and empathy are the keys. Eventually, they "heal" and, as a surgeon, you dont have to see them anymore. Thank god I'm not primary care.
Hemorrhoid surgery is literally a pain in the ass. Think about it. You're subjecting yourself to sharp objects being used around your anus. That's going to hurt, right? Perhaps even for days afterwards.
Here's the deal with hemorrhoids. They're basically vascular plexi underneath the anal mucosa. Importantly, hemorrhoids are not innately pathologic. Everyone has hemorrhoids. They actually function to provide some resting anal pressure and also have a sensory function to help differentiate between gas and stool. (Therefore allowing one to cut a little cheese without soiling oneself). They cause problems only when engorged or swollen. They come in two flavors: internal and external. The picture above helps delineate the difference. Presentation is different for each one.
Internal hemorrhoids
cause painless bleeding. Their location above the dentate line renders them insensate. Usually patients are treated conservatively for as long as possible (stool softeners, metamucil, etc). Surgical intervention is indicated for refractory bleeding. In the past this meant either rubber band ligation or formal hemorrhoidectomy. Nowadays, more surgeons are using the
PPH hemorrhoidopexy
device. This is a stapler that resuspends the anal mucosa and essentially cuts off the blood supply to the hemorrhoidal plexus. The benefit is that is allows you to treat multiple hemorrhoid bundles simultaneously, with much less post-operative pain.
External hemorrhoids
are right at the anal verge. These babies are well innervated and when thrombosed, cause significant pain. I suspect a thrombosed external hemorrhoid was what brought Mr Beck to a surgeon. After surgery, you're going to be sore as hell for several days. I hate these cases because patients aren't always pleased with how they feel afterwards. The key thing to to properly prepare the patient for what is going to happen and how they're going to feel after. As always, patient expectations are associated with patient satisfaction.
Also, a lot of patients present with combined internal and external hemorrhoids. When conservative measures fail, operative intervention can include PPH along with concommitant excision of the external component. You don't want this. You're going to be sore as hell and you're going to curse your surgeon. Plan on seven days of discomfort and some bloody spotting on the toilet paper, but it should get better.
How do you avoid complications of hemorrhoids? The best evidence we have seems to suggest that chronic constipation and straining at stool contribute to engorgement of the vascular plexi. If you're going every three days, that's a problem. Mix in a little prune juice or metamucil if you can. And when you do go, if your legs are going numb by the time you're finished, you've probably been sitting there too long. You shouldn't be able to finish the NY Times crossword puzzle during a BM session. Sit down, do your business and get off the toilet. Just a little public service announcement from your friendly anal specialist.