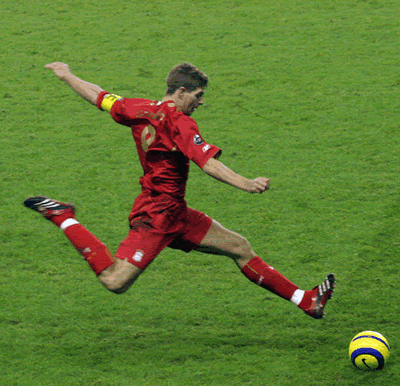 Welcome to another scintillating edition of SurgeXperiences. It's my 2nd time hosting, which is cool.
Jeffrey Leow
has done a terrific job in establishing this thing as the definitive Grand Rounds for surgery. Next time anyone sees him around the neighborhood; buy him a drink.
We'll start with a few posts from
Bongi
. Anyone who spends any amount of time browsing through medblogs is familiar with his wry and insightful takes on medicine in South Africa. First is a harrowing
tale
about a time he was on the other side of the sterile drapes giving anesthesia. Next is a story about a
Cesarean
section gone horribly wrong. (Fortunately, the South African John Edwards didn't hear about it.) Finally, he relates a story about a time he was moonlighting as an....African
killer bee
exterminator. Apparently, there were no shift openings for "lion tamer" that would fit into his surgical schedule.
Keeping it on the continent,
Eishmadiskakhi
(buddy of Bongi) gives us an amazing checklist that will prove you are indeed a Saffa doctor.
No surgical grand rounds would be complete without a few takes from
Ramona Bates
. First, she draws much needed attention to
an issue
that often gets swept under the rug; physician depression and suicide. Here's a
link
to information on the documentary she highlights. I also liked her review of a
recent article
from the plastic surgery literature investigating the psychological consequences of post-bariatric surgery patients undergoing subsequent body contouring surgery. It's important that patient expectations are tempered with a dose of reality before proceeding with post bariatric body contouring.
The
Sterile Eye
describes the difficulties of filming
transvaginal
repairs of vesicovaginal fistulae so that surgeons in Africa can adequately learn the procedure. He also has a nice post on surgical history about Alexis Carrel and the technique of
triangulation
for vascular anastomoses. Plenty of general surgeons also use triangulation for intestinal anastomoses.
From
Inside Surgery
is a great interview with the noted pancreatic surgeon,
Dr Charles Yeo
.
Make Mine Trauma
runs the show at the terrific blog IntraopOrate and she's also a consistently valuable contributor to the medical blogosphere. Reading her posts and you can't help but appreciate her enthusiasm and dedication to being a surgical first assistant. She's the kind of professional any surgeon would want to work with. Here's a
story
about her persistence in learning the steps of a total knee replacement. Not one to simply go through the motions, she devised a way to get a cheat sheet sterilely into the OR so she could better anticipate the steps of the case. Also, she alludes to some
old Seinfeld lore with a take
on the benefits of having, um, well developed hands.
Here's a blog I hadn't heard of before called
Head and Brain Injuries
. It's described as the "comprehensive resource for survivors and their families" and there's a lot of good stuff on it. For instance, check out this
review
of the different types of surgery performed for traumatic head injuries.
There were several submissions from nursing blogs, which was nice. Here's a helpful
guide
to managing your own health care. And from
RNCentral
is a
compendium
of the 100 best medical blogs for nursing students. (Unfortunately, Buckeye Surgeon did not make the cut. Alas.)
Laika
, a medical librarian,
reviews a paper
from the infectious disease literature that highlights the relative unimportance of patient temperature measurements in the post-op period. I agree that most fevers in the first 24 hours after an operation are simply a reaction to the trauma of surgery. But not always. I like my vital signs on my patients. I don't think I'll be getting rid of them anytime soon.
Hey, here's a cool
story
from
White Coat Rants
about a rapidly closing airway in the ER.
Here's a blog (by way of Ramona) called
Surgery, Passionately
. She's a hand surgeon in New York City who gets reminded of how
good we have it
after an encounter with an unfortunate guy with a chronic, festering finger infection.
There's a new surgical blog in the neighborhood called
Ant Ears
. He's a surgical resident in Pennsylvania and is interested in a career in rural general surgery (and if that continues to be the case, he certainly won't lack for job offers). The
first link
is to a story of health care delivery in small town America. When home health care is not available, it's up to family and friends, even strangers, to pick up the slack. One wonders how this would work in large metropolis. He also writes a thought provoking
post
on the notion of case number inflation. Good stuff in there.
Now let's go to the two minute drill:
From ShockMD-
A post about the paucity of women who actually perform self breast exams, and whether it matters.
From DrCris
- The ways surgeons can use something called Evernote. (I'm the guy who doesn't understand Twitter; of course I don't get this.)
From
Plastic Surgery 101
- The utility (or lack thereof) of routine MRI screening of silicone breast implants.
From
Medical School of Hard Knocks
- A student's description of his first day in the operating room (ah, the memories!)
Aggravated Doc Surg
gives us an entertaining little review of enterovesical fistulae and an unforeseen, rather simple, treatment.
And I couldn't pass up the opportunity to end this SurgeXperiences with a
story
about a man who went in for a circumcision and ended up having his rod whacked off. Hopefully it grows back. Reminds me of a joke I heard this week:
Two guys are having a beer to celebrate the birth of the first one's baby.
-How big is he? the friend asks.
-Well it depends.
-Depends? Whatcha mean it depends?
-Well he was 27 pounds when he first came out. But by the time we got him home he was only 8 pounds.
-Huh? What the hell happened? Didn't the hospital feed him?
-Nah, it was the circumcision.
Thanks to everyone who submitted. And happy new year to our Jewish colleagues.