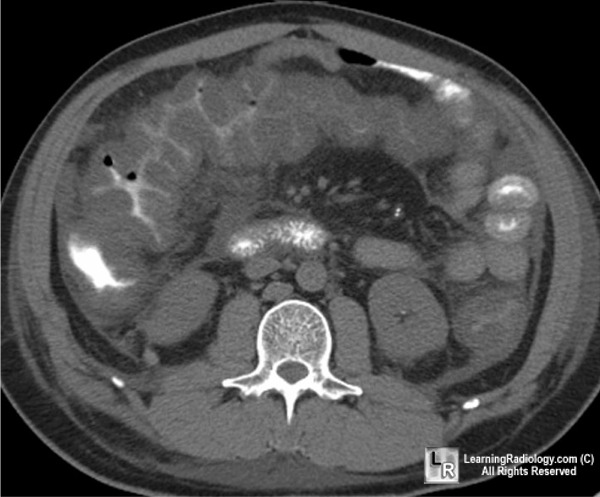 Since becoming an Attending Surgeon, I've performed 17 subtotal colectomies (went back and counted) on patients with fulminant c diff colitis over the past three years. As a resident, I don't recall ever doing or even hearing of a patient getting a colectomy for severe c diff. But it's a growing trend. This is a disease entity that didn't exist 15 years ago. Antibiotic induced alteration of colonic bacterial flora allows for overgrowth of this normally non-pathogenic bug. The spectrum of severity is broad, with rare cases (1-5%) progressing to the severe variety of fulminant colitis. What we're finding is that
earlier surgical
intervention in these severe cases represents the patient's best chance at survival.
There's a good review of fulminant c diff colitis in the
May 2009 Archives
issue from Harvard. Fulminant colitis is defined by the presence of systemic toxicity. Some salient points:
*In-hospital mortality was 35%
*Three key indicators of mortality were
WBC >35k/bandemia
,
age >70
,
cardiopulmonary failure/need for pressors/vent
*Earlier surgery was associated with improved survival
The most interesting point was that patient outcomes correlated with which service (surgical vs medicine) that the patient was admitted to. Patients on a surgical service were
3 times
more likely to survive fulminant colitis than those patients cared for by the medicine service. They were operated on more frequently and more expeditiously (as one would assume).
So the question is: If fulminant c diff colitis is a surgical disease, shouldn't all patients immediately be transferred to a surgical service once signs of systemic toxicity set in? If the patient is "sick" (renal failure, hypotensive, septic, etc) and has peritonitis on exam, I proceed directly to the OR. Some of these patients I fear are lingering on the medical service with a diagnosis of "infectious colitis" for far too long. Not all c diff is a surgical problem, just like not all cases of acute pancreatitis need to be followed by a surgeon. But it's important to properly stratify these patients and get the surgeon involved sooner rather than later...